Beyond the ugly buildings, broken roads, grimy streets, criminal politics and a demoralised populace, this is a beautiful land. A perfect setting for a grand tragic drama. But where are the artists and their expressions of sensitivity, especially when there is a sensory overload, of both good and bad, in this place? When we have so much to say! Unfortunately, we are no drumming Manipuris sublimating our angry souls. We are still 'smoke on the water' and all that alien and imbecile crap; playing riffs fit to sell toothpaste rather than tell our tales.
But for Mahendra Thami. God bless this man for trying. He is not among the best but he is always up to something new. And now he has opened the town's first permanent gallery! It is located on Toongsoong Road opposite vegetable stalls and long grocery shops, but very close to his own home. This road is a congested with tourists and locals alike, and we hope many of them will enter the gallery (Rs 5 entry fee) and take a break from the smell of oil-drenched shafaleys.
Look closely at the picture on the right. See that old gentleman with the stick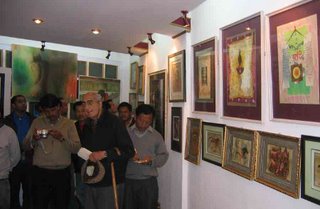 . That is Mr Naswan Madan, God bless him too for turning up to encourage MT. And don't tell Naswan he is old; and he is not. Afterall he displays more enthusiasm than our young.
The gallery was inaugurated yesterday afternoon by Mrs Cecelia Edwards at a modest function. This soft spoken lady can deliver one of the firey speeches in town. She should get into politics.
And lastly God bless Ajoy Edwards (in the pic below) who has been the chief patron (unknown to most of us) to MT.